Vision Statement for St. Helen's C of E (VA) Primary School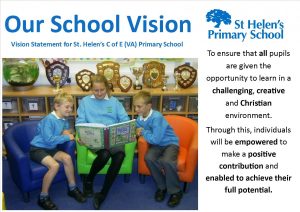 To ensure that all pupils are given the opportunity to learn in a challenging, creative and Christian environment.
Through this, individuals will be empowered to make a positive contribution and enabled to achieve their full potential.
Mission & Ethos Statement
We believe that education should be a journey that fosters a love of learning, where every child is supported and challenged to achieve their full potential. At St. Helen's we aim to create a respectful and caring environment based on Christian values as exemplified in the 'Every Child Matters to God' agenda, through which we encourage children to grow spiritually and become independent learners.
We endeavour to provide rich and diverse experiences that enable all children to develop a deep social, moral, spiritual and cultural awareness. We aspire for our children to become individuals who are well equipped to become responsible citizens of the future.
School Aims
To provide a caring, safe environment for all of our children and staff
To offer a high standard of education for every child
To offer a broad, balanced curriculum
To promote the development of the whole child
To promote Christian values and an awareness and understanding of other religions
To encourage parents/carers to engage positively with their child's education
To provide a quality learning environment that promotes high standards
To promote positive links with the school's community