Download "Open Afternoon and Creative Homework Information letter 12.01.18" Open-Afternoon-and-Creative-Homework-Information-letter-12.01.18.pdf – Downloaded 11 times – 492 KB
Download "KS1 Creative home learning Spring 2018" KS1-Creative-home-learning-Spring-2018.pdf – Downloaded 9 times – 353 KB
Download "Creative home learning Y3 & 4 Spring 2018" Creative-home-learning-Y3-4-Spring-2018.pdf – Downloaded 2 times – 214 KB
Download "Creative home learning Y5 & 6 Spring 2018" Creative-home-learning-Y5-6-Spring-2018.pdf – Downloaded 1 time – 214 KB
IMPORTANT – Allergy information
Please be advised that we have a child in school with a severe allergy to kiwi fruit. Please do not include kiwi fruit in your children's packed lunches or fruit snack pots. Many thanks.
IMPORTANT – Safeguarding Update
We politely insist that parents / carers do not take photographs of their own children in the school environment. This is because it is impossible to guarantee that other children will not move at the last minute, and accidentally appear in the photograph. Thank you for your understanding in this matter.
Reception News
Reception would love to receive any unwanted large cardboard boxes for our role play area! If you are able to donate any boxes, please bring them down to Reception!
Many thanks for your continued support.
Year 4 information
Please be advised that the payment for Year 4 swimming is now open for this half of the Spring Term. Please log on to the Schoolmoney system to make payment. Thank you.
Please be reminded that the second instalment for the Year 4 residential was due by Friday, 5th January – please log on to the Schoolmoney system to make payment online if this instalment is still outstanding. Thank you.
Year 5 Information
In Year 5 many children are struggling to access the Year 5 maths curriculum because they do not know the multiplication and division facts up to 12 x 12. It is vital that children are secure with and can use these facts fluently in order to access many different areas of maths.
Multiplication and division fact practice is set every week as homework in order to build and maintain fluency. Please ensure your child is practicing multiplication and division facts regularly throughout the week at home. You will find some excellent multiplication skills builders activities on IXL Maths in the Year 4 section F1-F13.
Year 6 Information
Maths and English SATs booster books available at £4.50 per set –please refer to letter emailed on Monday 8th January 2018. If you would like to order these books please log on to the Schoolmoney system to make payment. Orders will be placed with the suppliers after 26th January, once payments have been received.
Lost Property Update
Please be advised that we will shortly have a storage bench placed near to the pupil entrance door which will be used to store lost property. Parents will be able to freely access this storage area. School staff will empty the storage box on the 11th of each month when named items will be returned to their owners and all unnamed items will be disposed of.
Clothing for Learning  – As the weather is so unpredictable we recommend that your child has spare socks to change into. We recommend that PE kits are brought into school on Monday and taken home on Friday.
P.E. with Mr. Waldron and Art with Ms. Hawkins will take place as follows this half-term:
| | | |
| --- | --- | --- |
| Year Group | P.E with Mr. Waldron | Art with Ms. Hawkins |
| R | | Monday p.m. |
| 1 | Tuesday  p.m. |   |
| 2 | | Tuesday p.m. |
| 3 | | Wednesday p.m. |
| 4 | Wednesday p.m. | |
| 5 | | Thursday p.m. |
| 6 | Thursday p.m. | |
Information from Atlantic Racquet Centre
Come and try tennis for free at the opening of our brand new INDOOR tennis courts on Saturday 13th January 2.00pm – 5.00pm. With free sessions from tot's tennis to rusty rackets for adults, we've got something for everyone whatever age or ability. With loud music, enthusiastic coaches and an incredible new facility – it's bound to be a fantastic day whatever the weather! With special offers for all those who attend! Grab a racket, grab a friend and have some fun at Atlantic Racquet Centre for free!
For more info or to book your place on a free session please visit –http://www.atlanticracquetcentre.co.uk/opendays
Admissions Reminder from Devon County Council
Please be reminded that the closing date is at midnight on 15th January 2018.  The online application system will not be available after this date and any applications received after this date will be marked as 'late'.
Accelerated Reader 100% Quiz Results
Well done to all of the children who achieved 100% in their Accelerated Reader last school week. There were not as many children as usual,, as last week was a short week, but great to see some different names!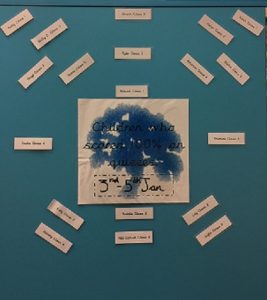 Residential Trips – please return all permission / medical paperwork for residential trips to the School Office as soon as possible. Thank you.
Schoolmoney Online Payments System
Breakfast Club and After School Club
Please be advised that Breakfast Club sessions and After School Club sessions for this half of term are now available to book.
 School Lunches
Please be advised that School Lunches for this half of term are now available to book on the Schoolmoney system. The Spring Term School Lunch Menu is available to view on the Lunchtime at St. Helen's page of our school website.
 We encourage all parents / carers to log on to www.schoolmoney.co.uk to check for any outstanding payments for school trips, lunches or wraparound care clubs .Thank you for your continued support and co-operation. Please be advised that reminder emails are sent on a Monday and a Friday. In response to parental queries, we have been in touch with the Schoolmoney team, to ask if the inbox notifications for payment reminders can indicate the specific payment at a glance, without the need to open the email, but we have been advised that this is not possible. As soon as the payment reminder email is opened, the nature of the payment will become obvious. Thank you.
FOSH NEWS
Well done to Mrs. Barrs who had all her hair cut off before Christmas! She sent her hair to Cancer Research and raised £64 for FOSH at the same time. Thank you to Mrs. Barrs and everyone who supported her.
Our next FOSH meeting is on Monday, 15th January at 09:30 a.m. in Costa, Atlantic Village. All are welcome, and we would love to see some new faces!
As at the date below the following events and activities are scheduled to take place in school:
WEEK BEGINNING:

15/01/2018

SCHOOL EVENT
AFTER SCHOOL CLUB

(15:30 – 16:30)

MONDAY
 
AR Club –Y1, 2, 3, 4, 5 & 6

CLUB FULL

TUESDAY
 
Moo Music Club – R & Y1

CLUB FULL

Yoga Club – Y3, 4, 5 & 6

SPACES AVAILABLE

WEDNESDAY
 
Multi Skills Club – Y1 & 2

CLUB FULL

THURSDAY
 
Quick Sticks Club – Y4

CLUB FULL

Multi Skills Club – Y5 & 6

CLUB FULL

FRIDAY
Class 4 Swimming

 

Lego Club – Y1 & 2

SPACES AVAILABLE